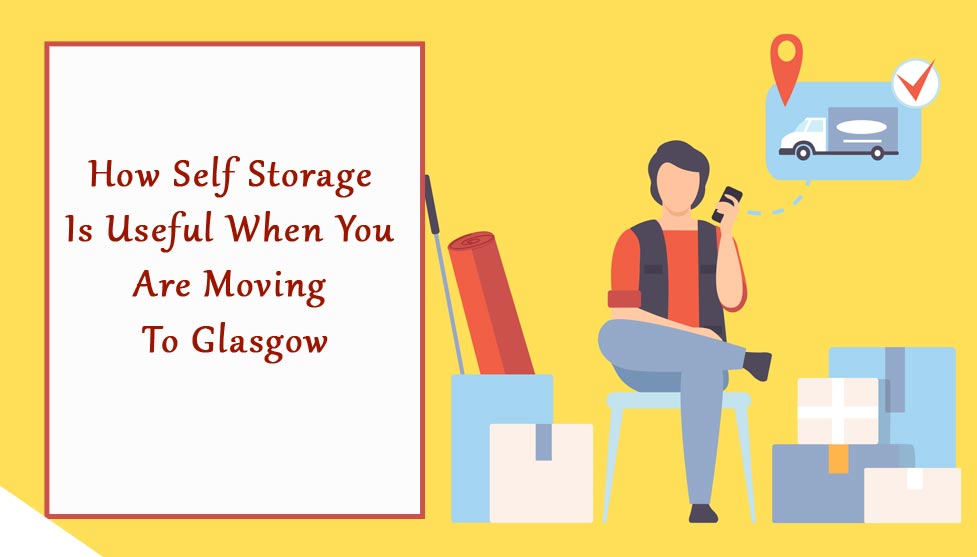 The city of Glasgow has the largest economy in Scotland. Moreover, it is best recognised for its diverse economy and its thriving job market. It is currently sustaining at least 400,000 jobs in over 12,000 companies of different sizes, making it an attractive place to live for those looking for opportunities to further their careers and improve their financial standing. It is, therefore, no surprise that Glasgow's population and net migration rates have been seeing a steady upwards trend.
If you are one of the people planning on moving into Glasgow, you've probably heard tons of moving tips like creating comprehensive lists to hiring professional moving companies that people claim could make your entire moving experience smooth and easy.
However, one thing you probably have not heard much about in the context of moving houses is how a self storage unit can make things a whole lot easier for you. This applies not only during the process of physically transporting your items but during your adjustment and transition period as well.
5 Ways Self Storage Is Beneficial When You Are Moving To Glasgow
You may be thinking, "I don't need a storage unit when I move houses! How will that even be helpful?" Well, to help you understand why exactly, we've come up with a list of ways how self storage in Glasgow can be beneficial when you are moving houses! Check out the list below!
You Can Keep Your Valuables Safe During The Move
Having to constantly worry about your valuables and expensive items getting damaged while in transit is one of the most stressful parts of the move. Hence, it would be wise for you to create a plan to ensure their protection from getting scratched, crushed, or damaged.
For example, you may choose to move these valuables ahead and keep them at a storage unit before the rest of the cavalry comes in. You may be thinking, "But I still have to travel with my valuables! How does a storage unit make it less stressful?"
Think about it! You are only worried about your valuables getting crushed or scratched due to the overwhelming number of heavy and bulky objects surrounding them. However, when these valuable items are properly packed and loaded into a vehicle that is not cramped with your bulky furniture and other belongings, then you can rest assured knowing they'll be safe from harm.
To ensure that nothing does indeed go wrong, only take these items out of storage once the rest of the house has been properly arranged and decorated.
Putting Your Stuff In Storage Will Allow You To Unpack At Your Own Pace
If you have moved houses before, then you will agree that the process of unpacking at your new place can just be as chaotic and stressful as packing up your stuff before the big move. Some might even dare say that it is much more stressful!
Typically, the unpacking process is made stressful by the overwhelming number of boxes that you have to unpack, the belief that the best way to feel at home at your new pace is by getting rid of the unpacked boxes as soon as possible, and the pressure to get the unpacking done all at once.
However, scrambling to unpack everything in a short period can cause you just as much anxiety as a pile of boxes that have yet to be unpacked sitting in your living room for more than a couple of weeks.
And so, it would be wise for you to keep these still-packed boxes in storage and take them out when you feel the need to unpack them instead. This will allow you to relax and take your time unpacking your stuff without feeling any pressure, anxiety, or shame for doing so.
You Can Make More Space In Your New Home
Every time a person moves out of their home, they often get surprised by the amount of stuff they have collected over the years. This becomes a problem when they end up with far too many things for their new homes to accommodate comfortably. Fortunately, with a storage unit, these people can choose only to take essential items into the new place and make the most of the space they do have.
Alternatively, if you are planning on getting a couple of new appliances or furniture pieces, but for sentimentality's sake, do not want to get rid of the old ones they will be replacing, a self storage unit would be a very convenient place to safely and securely keep the items you do not want to dispose of.
Need some home decorating tips? Check this out!
The New House Will Be Organised For As Long As Possible
When one moves into a new house, it is common practice for them to want to make sure that the house is clean, neat, and organised for as long as possible. However, if you have many things that you know will eventually turn into clutter and mess in your new home, it would be best to keep them in a storage unit instead.
By doing so, you may just be able to keep your home as clean and as organised for a more extended time!
Have you been convinced of the fact that a self storage unit can be beneficial to your Glasgow house move yet? If you have been convinced and are planning on renting one for your move, do not forget to ask for price quotes from multiple storage units! Doing so will enable you to find the best storage deals possible!
Meanwhile, if you are still looking for a home in Glasgow, here are the Best Ways To Look For A Home In A New City.
Related Post