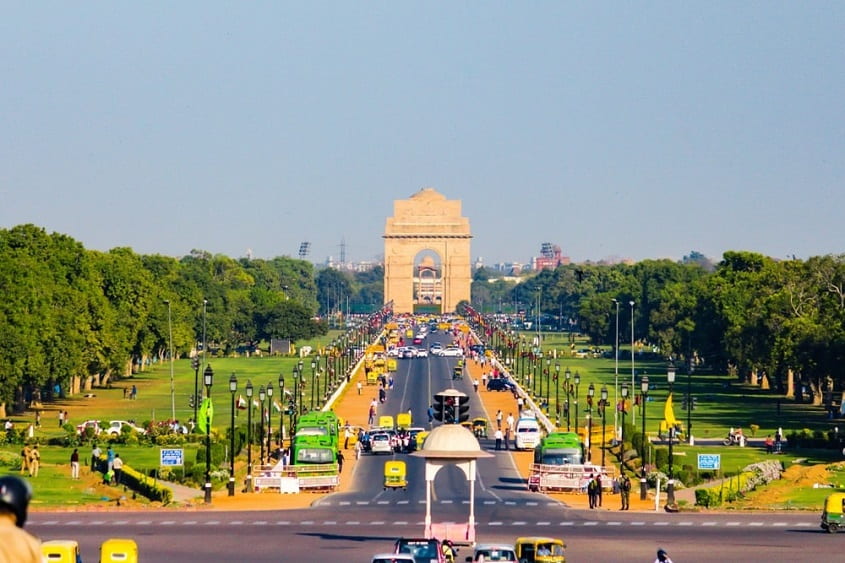 Delhi or should I say Dilli comes under one of the Union territories of India. Some used to say that this is the world's oldest city existing. But when you are going to plan a trip that too, alone it can lead out to be fun. Finding the right place to visit is something that you find it difficult because when you are going on a trip, you are expecting something out of it.
When you are done with deciding the right place for your trip, you should take a key destination of the place to visit. At times when you are confused as to where to visit for the trip, we are here to help you we are going to give you a list of 12 best places to visit in Delhi. Let's get started with the fun.
Must Read: Home Moving Tips on How to Relocate Safely During COVID-19 Pandemic
1. Connaught Place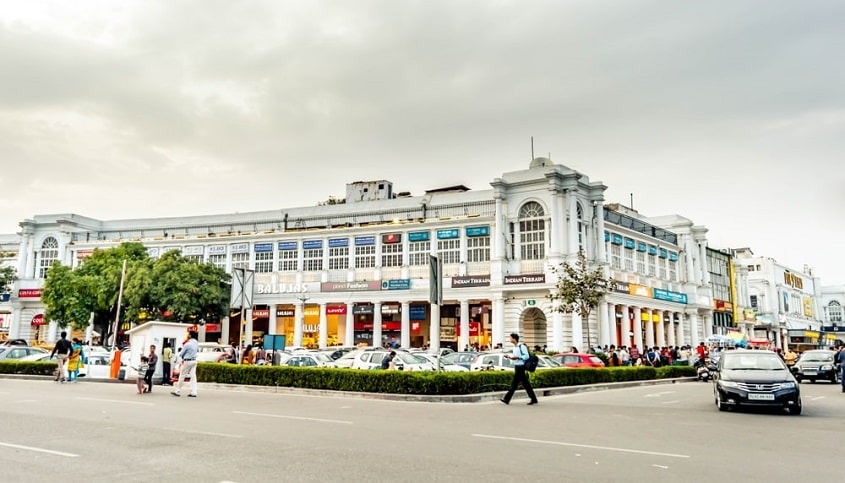 One of the famous places to visit in Delhi is Connaught place now turned to (CP), which is also known to be Rajiv Chowk. This place serves as the hot spot of the shopping center of Delhi. It became a major hot spot of shopping, after the opening of metro services under it. The next time, you come to this place don't forget to take a peep into Palika bazaar which is the most loved place of shopping lovers. You can get traditional to modern kinds of stuff from this place.
2. Jama Masjid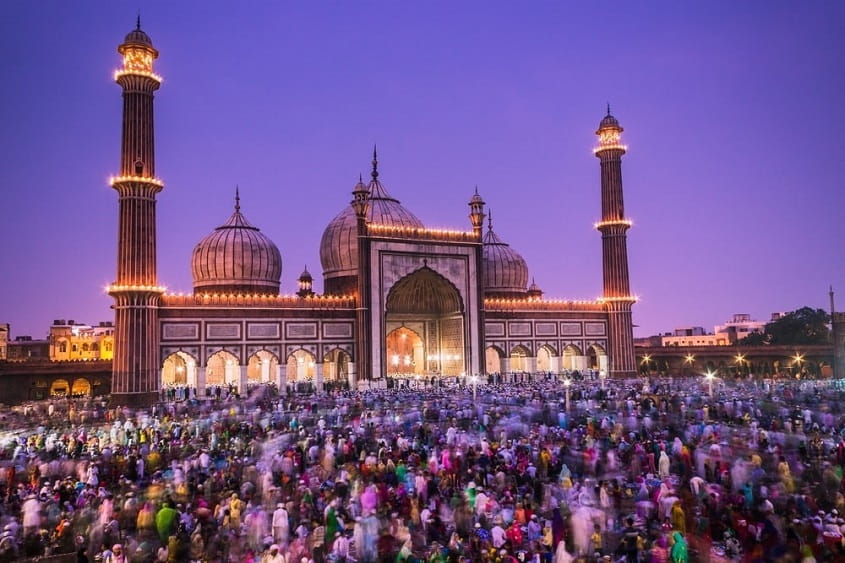 The next place in the list of tourist areas to visit in Delhi is Jama Masjid. It is known to be the largest mosque in India. The interesting thing is that this mosque is situated opposite Red Fort (which you will find in the next point). When you are roaming around the streets of amazing Delhi city then you should pay a visit to this mosque also. However, the visiting costs no charge but when you want to get the full Delhi in your view and climb the Minar of the mosque then you will be charged accordingly. You are not allowed to take pictures while the prayer going on.
3. Red Fort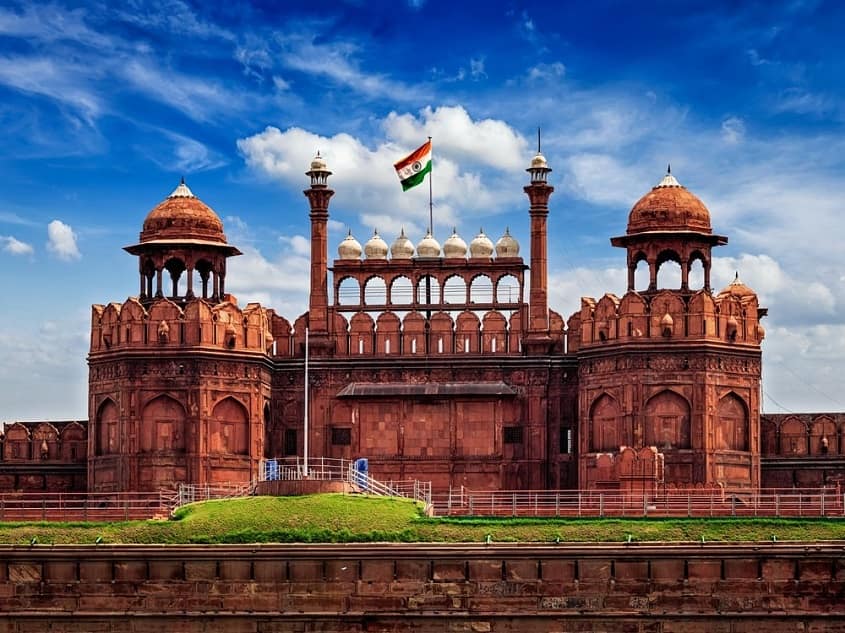 Red Fort also is known as Lal Qila and it is one of the historic monument of Delhi. So this place stands on the place of the third position in our list of best places to see in Delhi. It is the center of attraction among the city's monuments and visitor's most loving place as well. It spread out its majestic aura which is encrypted in its red sandstone walls and create an awful scenery. It is built by the Mughal emperor in the memory of Shahjahan. You can get to see many of the monuments inside its wall and can be entered through a huge gate called Lahore Gate.
4. Humayun Tomb
This beautiful monument was built in the year 1570, this tomb made by Queen Haji Begum. Queen Haji Begum is said to be the widowed of Humayun. This monument has the Persian artistry on its wall which made it stand in the list of tourist places to visit in Delhi with family. One interesting fact is that very few people come to notice that this monument resembles the world's most famous monument which is the Taj Mahal. This monument is open for everyone and each day of the week. One tip you need to take is that these monuments seem to beautify itself in the late evening time.
5. Chandni Chowk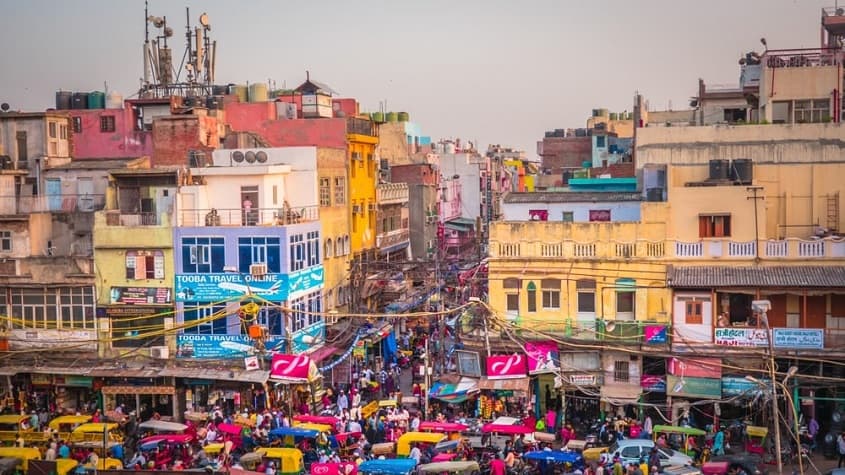 The other place manages to be among the famous areas to see in Delhi is Chandni Chowk. It comes in the small section of old Delhi which is still said to be "heart of the city". You can explore this place if you are in a mood to experience any natural and authentic Indian bazaar. You are also going to give an experience about the life of Delhi people.
6. India Gate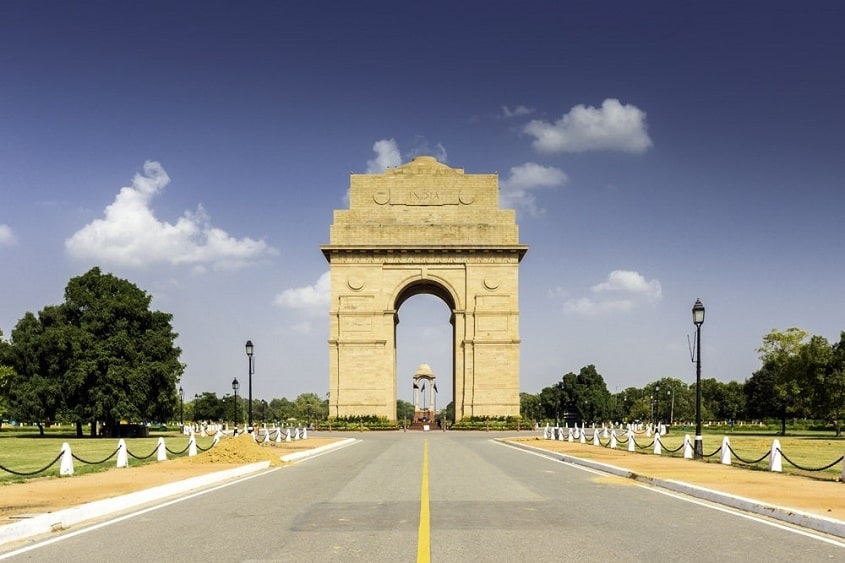 This mesmerizing place situated at the end of Rajpath and it comes among the best tourist spot to visit in Delhi. This is the route from where the main parade leads to Rashtrapati Bhavan. The way to Rajpath across India Gate is covered with grassy lawns which turns out to be a center of tourists visiting the area in the evening time.
By the time of the evening, when the structure lits up you can adore the beauty of the grassy lawn. The India Gate was built in the memory of soldiers who sacrificed their precious lives during the First World War.
7. Lotus Temple
Lotus temple also is known to be Bahai Temple which gives a big owing to the lotus flower. Lotus is known to symbolize four main religions which are namely Hinduism, Islam, Buddhism, and Jainism. There are a series of seven major Bahai temples across the world and among which this temple was constructed last so this became one of the famous places to visit in Delhi. This beautiful place is open for all those people who believe in any religion and wants to pray and meditate in peace. The nine pools around each of the petals are such a thing to must-see.
8. Rashtrapati Bhawan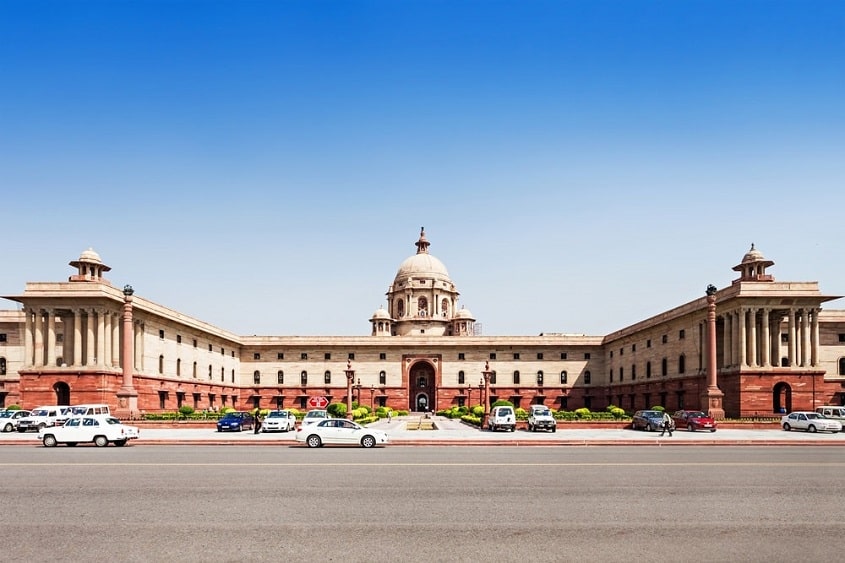 The eighth place in the list of tourist spots to travel in Delhi is Rashtrapati Bhawan. Rashtrapati Bhawan serves as the official home for the President of India. This beautiful Bhawan was built in the year 1929. This famous building was designed by the British architect which is Edwin Lutyens and the intention behind designing this building was serving this building as that time Viceroy of India. Rashtrapati Bhawan is combined with the majestic garden to compliment the building.
9. National Zoological Park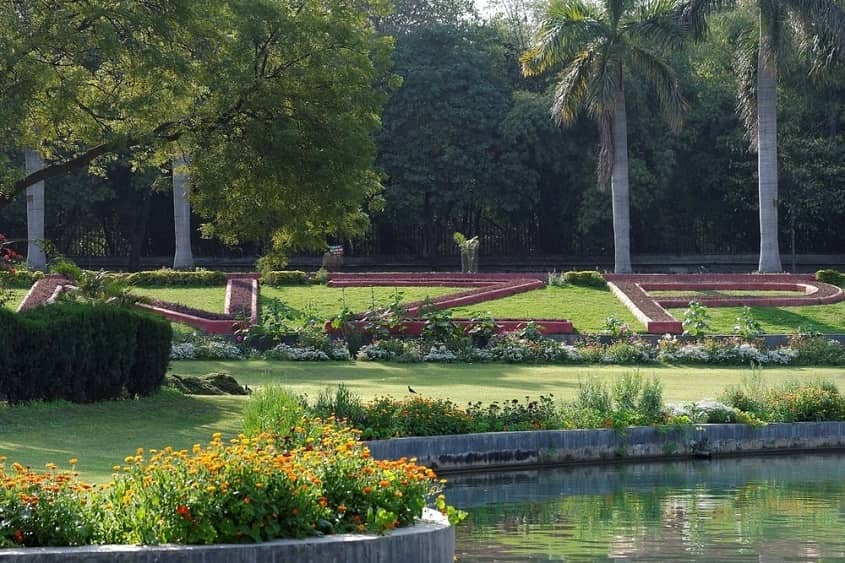 This park full of treasure is situated at Mathura Road and came out to be famous places to visit in Delhi with family. It is a huge green park that is focused to save the biodiversity of the country. This wide green park serves out to be home for many of the rare wild animals all over India. You can walk across all over the park by foot if you want seamless white tigers and elephants in front of your eyes.
10. Qutab Minar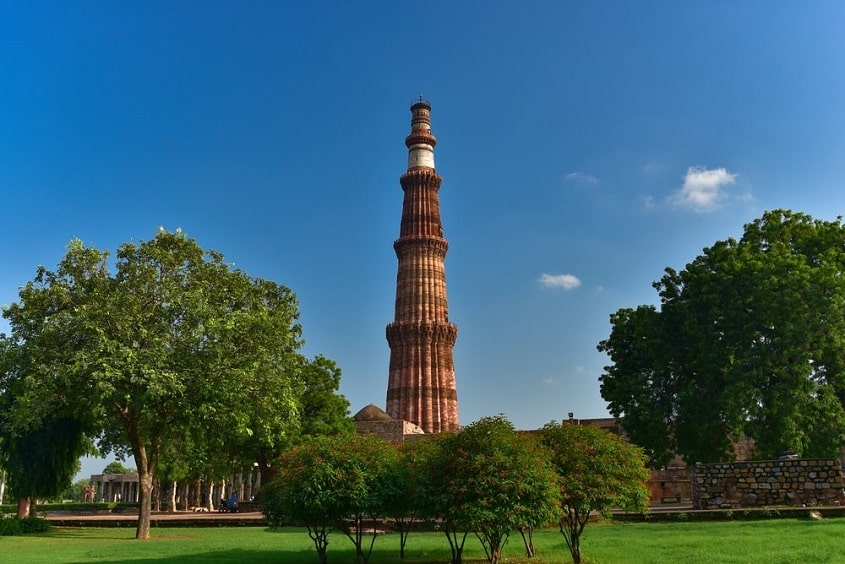 It is known as the tallest tower in India. Yes, the next place in the list of tourist spots to travel in Delhi with friends is Qutab Minar. This monument has witnessed victory and the beginning of the Mughal era across India. One of the interesting facts is that it is 73 meters tall and was built by Qutab-Ud-Din Aibak. Qutab Minar was built after the defeat of the Hindu Kingdom. While some people say that it was built to serve the people coming to pray to this place. The very first mosque built in India WIS Quwwat-ul-Islam situated at the base of Qutab Minar.
11. Swami Narayan Akshardham temple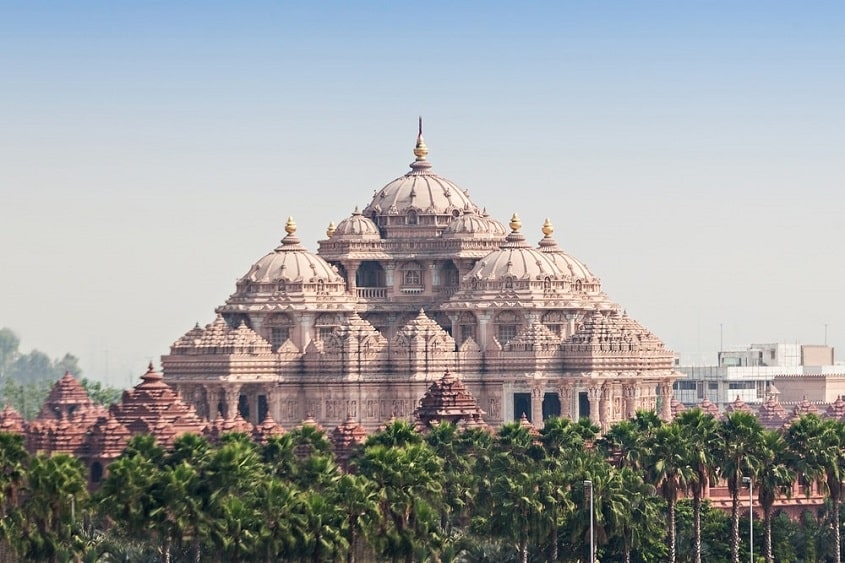 No matter what religion you follow, but if you want to see a mesmerizing view then visit here in the morning or evening time. This is one of the beautiful places and known as the largest Hindu temple, holds the 11th position in the list of top areas to visit in Delhi. You will be amazed to know that the construction for the fountain was made to be with concrete and for the entire temple granite sand marbles across the globe came to be used.
12. Kabab Lane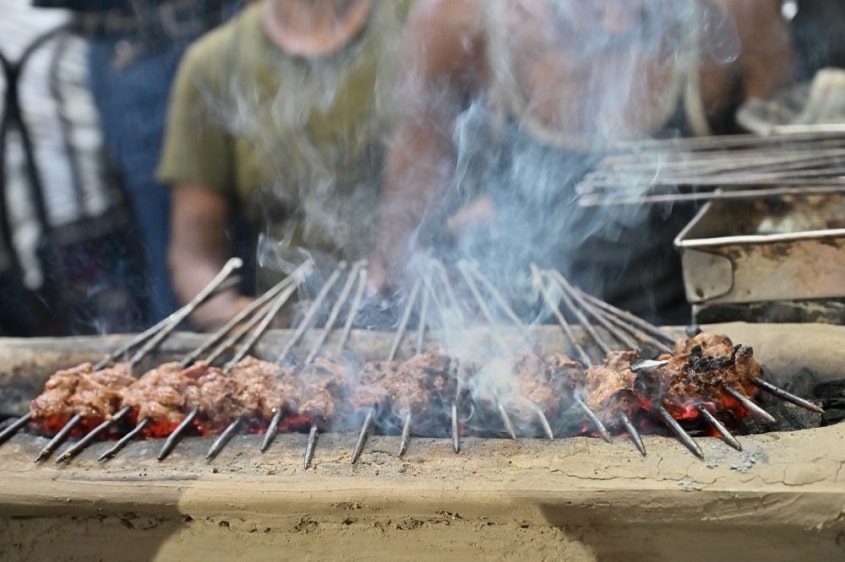 You can't imagine about delicious street food you are going to miss if you don't visit this place which is called Kabab Lane. The recipes and flavors used in their foods have gained such popularity to the end of the country. If you have found yourself standing in the mid of a street that is full of food then it is likely that you are in Kabab Lane. Kababs, Biryani, and royal tandooris attract every visitor to come to adore Jama Masjid, as it stands adjacent to it.
So with this, it's a wrap and these were the most exciting list of best places to visit in Delhi. I hope you visit them at least once in your round of the trip.
13. Waste to wonder park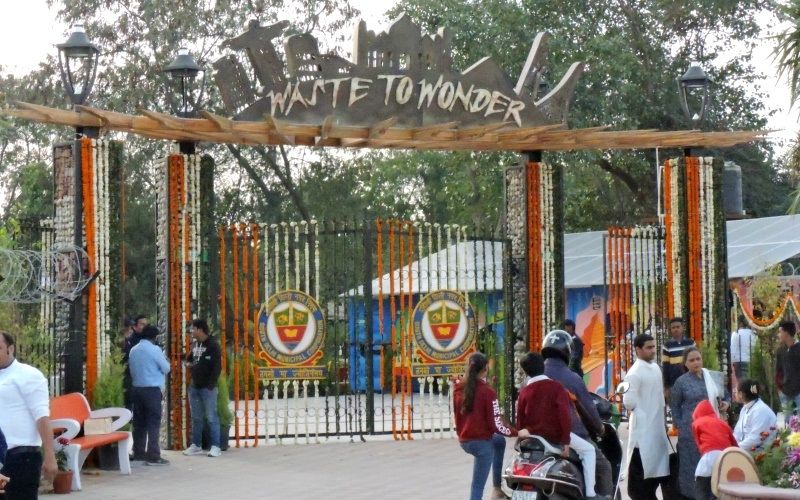 Have you heard about the idea of making wonders from waste? Yes it's got a name here in Delhi which is known as waste to wonder park. It is the latest edition of attraction in Delhi and gets recognized as one of the tourist places in Delhi. You can get to see the replicas of seven wonders from the world.
They all are created from industrial wastes and some other wastes as well. It has got the recognition as one of its own kind of park in the world. If you want to visit there, then this park is situated near Nizamuddin Metro Station and was inaugurated at the Rajiv Gandhi Smriti Van.
You might get thrived when you find that this idea got ignited after "Badrinath Ki Dulhania". Come to explore the excitement at Waste to wonder park. You might get stunned to see these creations as they look surreal.
14. Gurudwara Bangla Sahib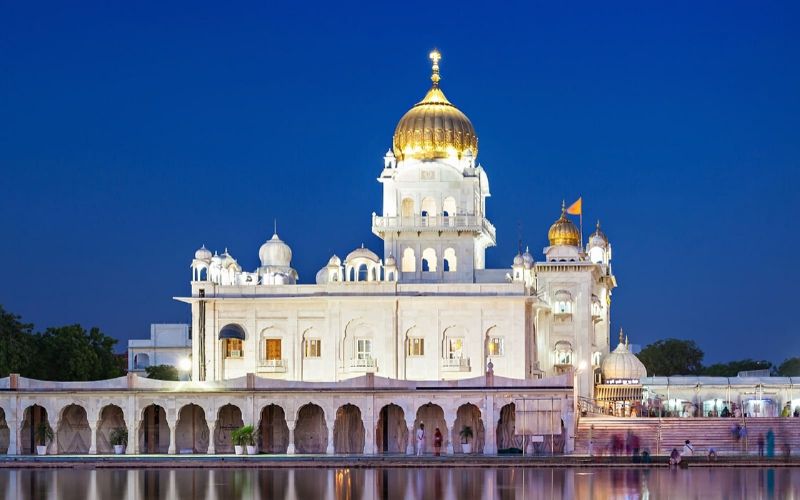 After you have got stunned from the sight of Waste to Wonders park, it's time for you to get some peaceful time.
One of the best places in Delhi for the divine time is Gurudwara Bangla Sahib. Now, Gurudwara Bangla Sahib was designed as a small temple by a sikh General called Sardar Bhagel Singh.
On top of that, this place covers few of the other places such as Higher Secondary School, Baba Baghel Singh Museum along with a library and a hospital as well. This place is situated at Rajiv Chowk.
15. Safdarjung's Tomb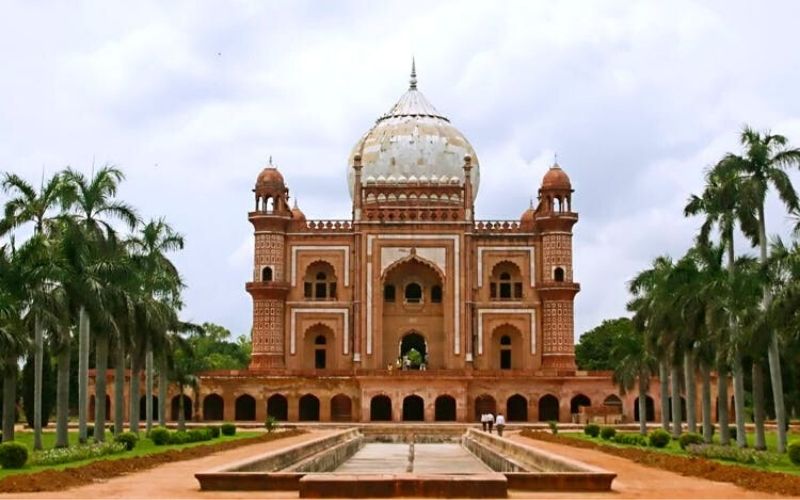 Now this is in the top list of famous places in Delhi which is Safdarjung's Tomb. The place is situated at Lodhi Estate which is mesmerising itself. Safdarjung's Tomb was built in the year 1754 and by son of Safdargunj's. His name was Shuja-ud-Daula. He built this, as a sign of his father's memory.
Some of the centre of attraction from Safdargunj's Tomb are namely, Moti Mahal, Badshah Pasand and Jangli Mahal. These are some of the small canopies which engage visitors in it's beauty. Apart from these there comes a lovely garden that covers the tomb making it a beautiful scene.
16. Tughlaqabad Fort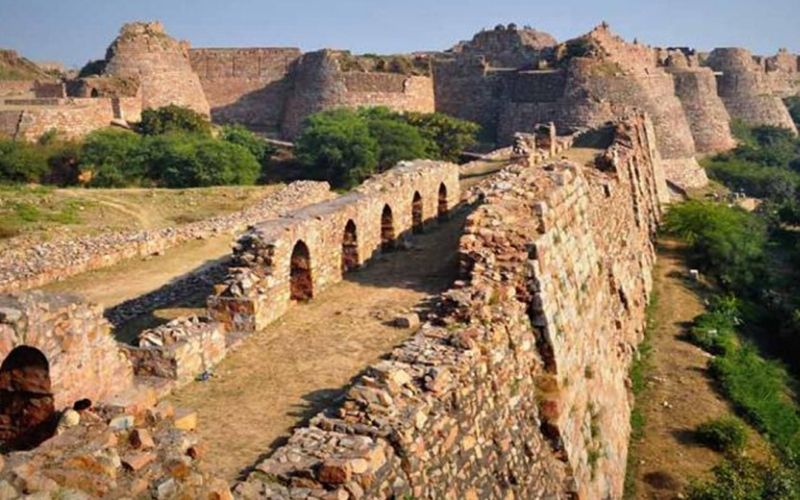 The next place which we have on the list of tourist places in Delhi is Tughlaqabad Fort. You can find this place at Mehrauli-Badarpur Road. Now, let me tell you an interesting story about this place, the labour that built the fort cursed this tomb to be abandoned forever. After that legends has said that curse seemed to be true.
However, the fort is made up of stones and the height of walls are 10 to 15 metres. In the present time, almost all gates are destroyed but some of them are in good position as well.
17. National Gandhi Museum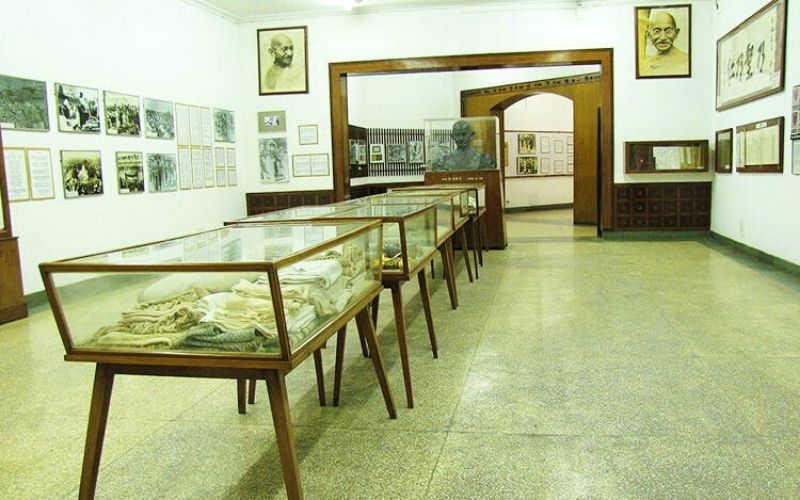 Walking through our list of places to visit in Delhi, we reached the National Gandhi Museum. It is situated near Rajghat, which is known as the burial place of M K Gandhi. The National Gandhi Museum was inaugurated in 1961.
This museum is marked to display some arts and paintings of Gandhiji. You can get to see the wooden sculpture of Satyagrah designed by Willemia Muller Ogterop. This art comes under most famous artefacts found in museums.
Furthermore, you can explore the library that is the house of tons of books and Gandhiji's Life.
18. Dilli Haat
Mood for shopping from Delhi flea market?
Then there's no best place other than Dilli Haat. However, this place is one of the famous places in Delhi which is busy through-out the year.
So you can find out many of the funky, affordable things to buy. You have many of the options such as traditional artefacts designed by locals, woven bags, handicrafts, gorgeous fabric, traditional Indian furniture etc to shop from.
Besides, if you get tired by shopping and want something in your mouth to satisfy your tummy's rats then visit food stores. Now, these are the places that offer delicious foods which you can't say no to.
19. Lodhi Garden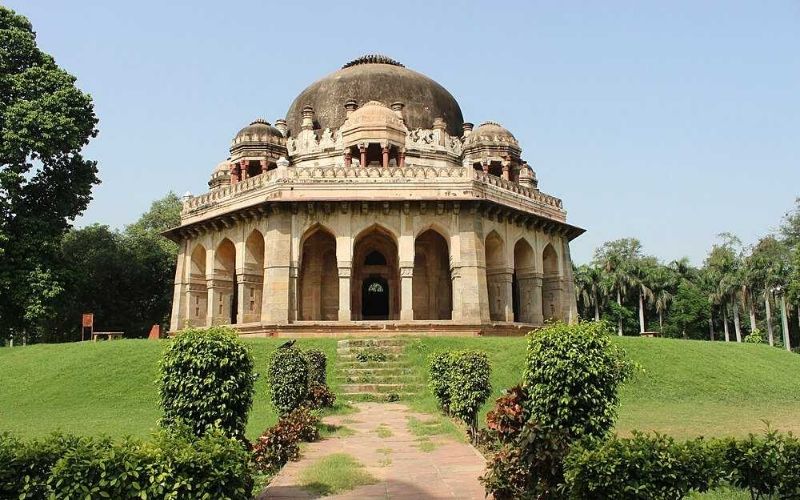 Next to Dilli Haat, we are going to explore Lodhi Gardens. However, this park is known for its iconic tombs and some monuments from the Lodi Era. You can visit here by morning to have fresh air and an exercise session. If you want to go deeper in nature then have a round at National Bonsai Park. Come witness nature's beauty at National Bonsai Park which is the house of tons of trees. Lighting up the tombs by the evening creates an amazing aura. The thing which you don't want to miss in Delhi.
20. ISKCON Temple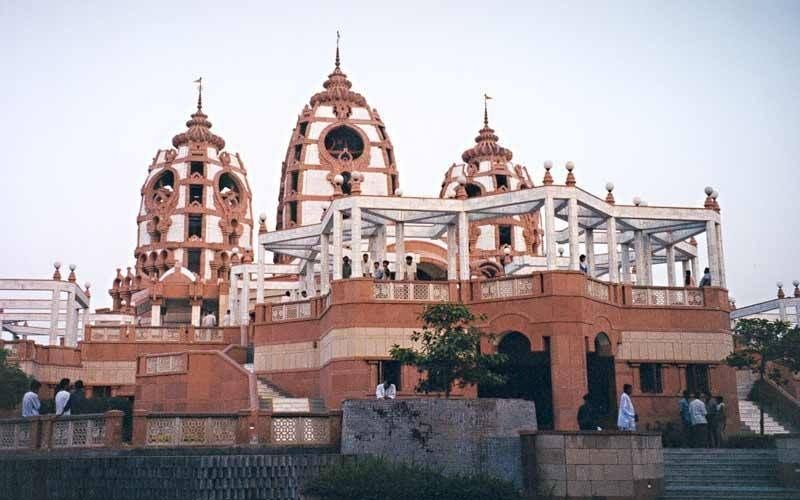 Walking next we come to the place which holds the position in tourist places in Delhi, The ISKCON Temple. This temple was founded by Divine Grace A.C. Bhaktivedanta Swami Prabhupada by the year 1966.
You will be witnessing mesmerising scenery before you because Bhagavad Gita is visually presented here. Covered with wonderful light effects over the big screen.
The crew also organise beautiful robotics shows along with Mahabharat by the evening. To add more excitement, you can go to the Govinda's restaurant which is alongside the temple. They serve delicious veg foods.
Apart from that, you can get the joy of a museum which is full of extraordinary artefacts. Not only this, but they also organise some of the multimedia shows for the visitors.
If you want to see the beauty at its peak then visit this temple in the time of "Janmashtami". This is the day of Lord Krishna , which is celebrated with pomp and vigor.
21. Kingdom of Dreams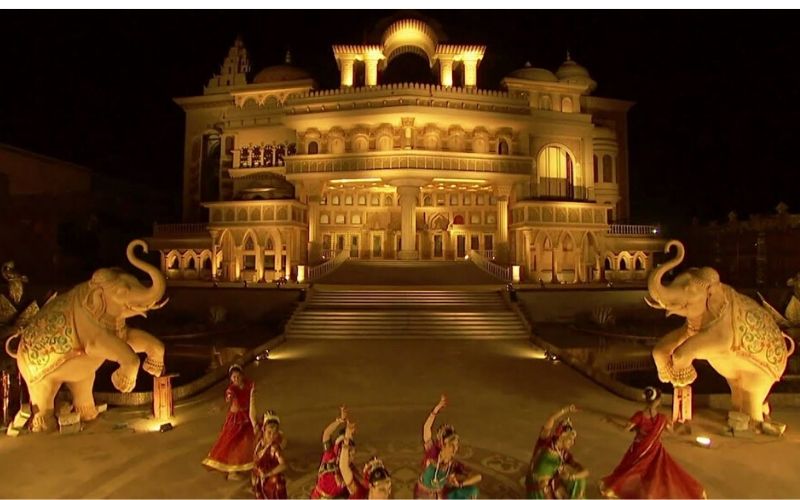 The next place in the list of places to visit in Delhi is Kingdom of Dreams. It is the first live entertainment park in Delhi. Hence, you can visit the Kingdom of Dreams in Nautanki Mahal. This place is curated to get the feel of a palace. Another place which is a must to visit is Culture Gully. Culture Gully is famous for its food and cultural center.
You can find Kingdom of Dream near IFFCO Metro Station, Haryana.
22. Jantar Mantar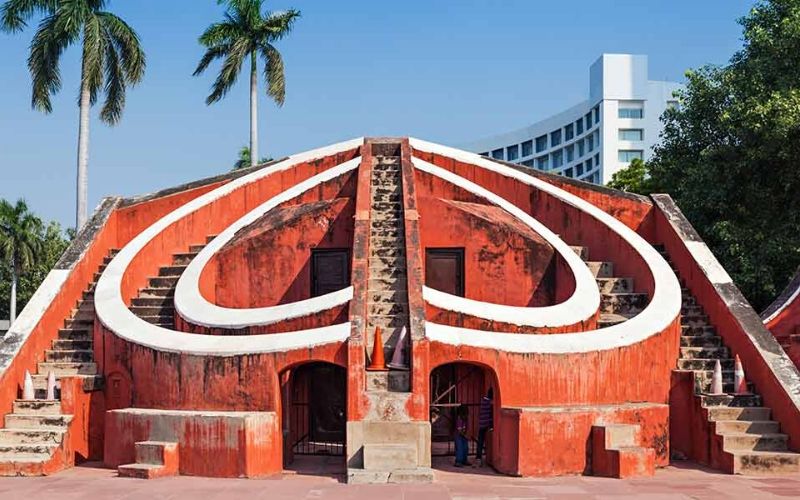 Want to explore some authentic place in Delhi? Then you must have walked at Jantar Mantar. It is the display hub of Indian Astronomy which makes it one of the famous places in Delhi. This place is an astronomical observatory built in 1724 by the king of Jaipur named Maharaja Jai Singh.
Because of the skyscrapers, you can't get to witness the functionalities of Jantar Mantar.
The observatory includes Samrat Yantra, Jai Prakash, The Ram Yantra and the Misra Yantra.
Jantar Mantar also has a temple, which is the temple of Bhairava. This temple was also built by Maharaja Jai Singh II.
23. National Rail Museum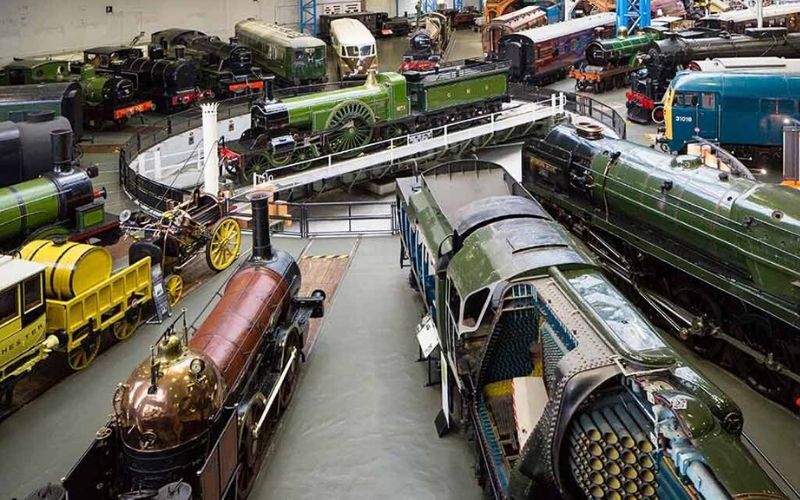 Want to explore some historical places in Delhi? then this is the place you want to be in. The National Rail Museum is so much fun if you're coming with kids. You can find many of the static and working models, signaling equipment, antique furniture, historical photos, Prince of Wales's Saloon, Saloon of Mysore's Maharaja. One of the things which kids love here is the Mono Toy train.
24. Mughal Garden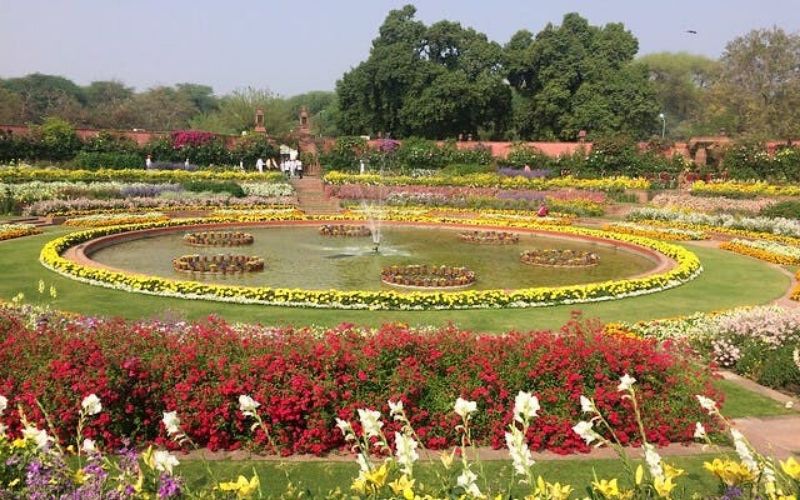 Mughal Garden, also famous as the soul of the Presidential Palace. Mughal Gardens are situated inside the Rashtrapati Bhawan complex. This palace was designed by Sir Edwin Lutyens by the year 1917 for Lady Harding. You can witness the Mughal era inside this place as there is wonderful art in British Style.
You can hold your breath after looking at the combination of circular, spiritual, bonsai, herbal, tactical and musical garden.
25. Agrasen ki Baoli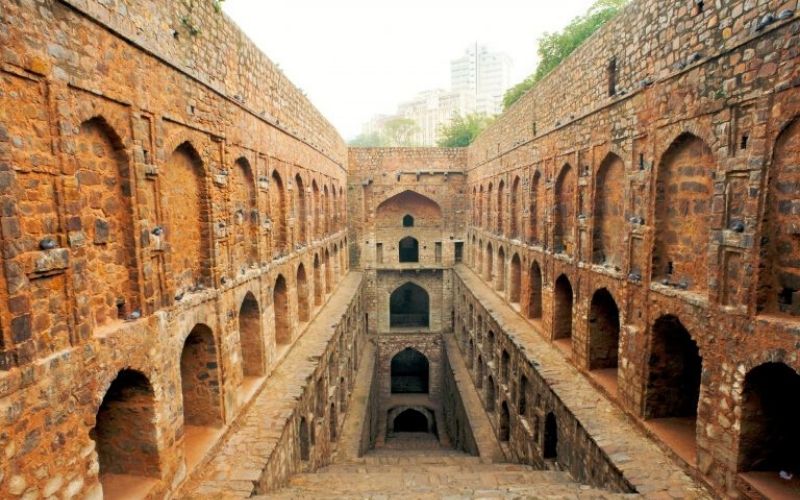 Agrasen ki Baoli also known as Agar Sain Ki Baoli or Ugrasen ki Baoli. This is the historical monument which can be found at Halley Road in New Delhi. This place is a breathtaking experience for the lover of photography.
You will be seeing old brick walls which will take you in ancient times. Further, if you move down with the walls, you can feel the drop in temperature. Agrasen ki Baoli is a protected monument under Ancient Monuments and Archeological sites.
FAQs Related to Tourist Places in Delhi
Which are the best places to visit in Delhi?
Delhi is the Capital of India. It has so many places to explore. You will be stunned to explore these areas mentioned above.
What are the famous foods to try in Delhi?
Leaving all the other attractions of Delhi apart, let's take a tour to mouth watering foods. Paranthe Gali is something you can't afford to miss out on in Chandni Chowk. From keema, potatoes, eggs, even bananas, and all the wide range of parathas. You can also get to try many of the chicken dishes, kebab rolls,butter chicken and many other delicious foods.
What is the best place to stay in Delhi?
If you are finding one of the budget-friendly hotels, then Hotel Sita International can be suitable for you. You can find the rooms here, air-conditioned and well furnished with some basic amenities. However, Opt for Taj Palace Hotel, if you want a luxurious room. You can try out the multi-cuisine delicacies along with rejuvenating spa sessions in the hotel.Other than these you can always go for the option which is Radisson Hotel. There is a wide range of rooms available there. Enjoy the Savannah Bar and satisfy your taste buds with some classic drinks.
Where can i find the cheapest market in Delhi?
If you want to shop around the cheapest market then come to Chandni Chowk. It is the cheapest market in Delhi. You can find many of the affordable things such as jewellery, shoes, dress etc.
What time is supposed to be the best time to visit Delhi?
Delhi is famous for the killing heat. So don't come to Delhi when it's warm weather. At the same time, if you visit here in cold weather that can be overwhelming. So the best time to visit Delhi are autumn (October, November) and spring (February, March).
Where to visit in Delhi with Girlfriend?
Best places to visit in Delhi are Lodhi Gardens, Ridge Road, Hauz Khas village, Parthsarathy Rocks and Purana Qila.
Where are some of the famous markets in Delhi?
Some of the famous markets for shopping are Sarojini Nagar Market, Lajpat Nagar, Khan Market, Janpath Market and a lot of markets are there.
Related Post