You got a 50% off coupon for your shopping in a multiplex, now plan your shopping as you wish. How do you feel now? Similarly think of your house, as you are going to move out of your old house and will start a new life in a new house that too with saving up to 30% on moving.
Now let's face it everyone gets happy when they are offered with any free item or a discount. One of the happiness is that you got a promotion with a hiked-up salary next is the thing that you will need to move into a new house. A new house is new happiness but saving up to 30% in the process is something that touches the heart. Who Doesn't want to save? We all love to save money when we go shopping, eat outside, traveling, etc. We love to getting enabled to saving-up some bucks which feel amazing.
So, why not save during house shifting? After analyzing and calculating many things we have found these 7 useful house shifting tips for our valuable clients to save their money during the house shifting process. You will get to know about the saving you are able to do in each and every step with this guide. Now let's begin with the tips.
Tips to Reduce Home Shifting Charges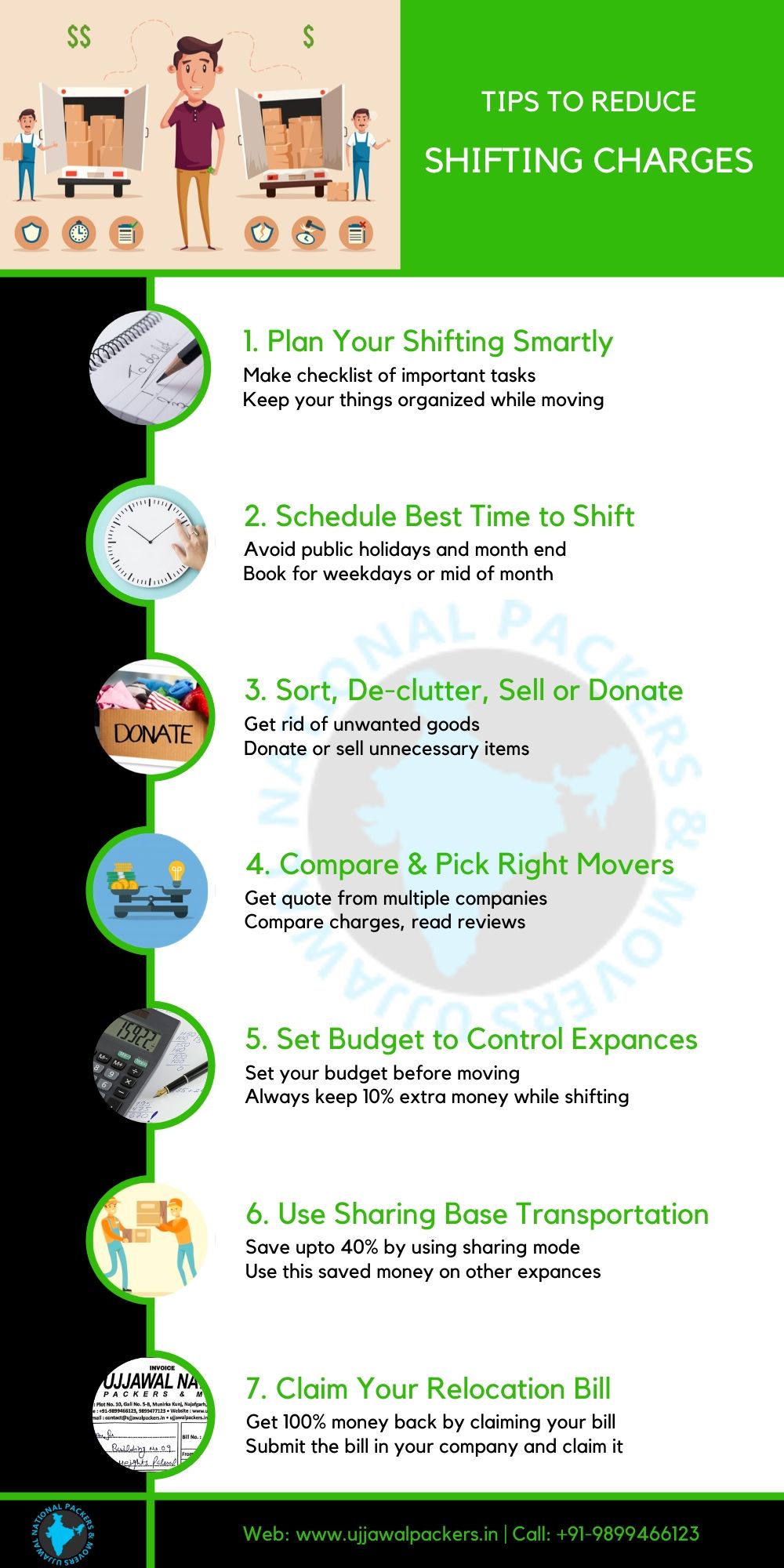 1. Prepare a strategy or a plan for your move
It has been seen that if you prepare a strategy or a plan for your move, you can save up to 2000 to 3000 of your home shifting charges. As you are going to move into a new house you need all things to be organized and hassle-free. Hence moving into a new house takes time and getting settled in a new house quickly is another thing. To ease up all the stuff, you need to plan your shifting at least before 2 weeks. You will have enough time to get quotes from different house shifting companies and compare their prices and choose according to your budget.
After selecting a house shifting company you can easily research about that "house shifting company" if they are government certified or not, you can also check other customer's reviews and go to their website for getting to know about them deeply. You can meet them personally to discuss your move and all the stuffs related to that. We already shared a step-to-step guide on how to plan home shifting for our customers, you can follow that blog to get a deep knowledge to sort your moving plan.
2. Schedule the best time to shift
The Relocating company charge less on weekdays, so you are likely to save around 1500 to 2000. Just think of your office it gets busier on weekdays but you get off on weekends. Although it's the opposite case for the moving companies, as they get busy on weekends and tend to charge you higher. Because most people want to shift their house on weekends thus this will increase the competition and price also. On weekdays, prices are a bit less than weekends and vendor's proficiency is far better, as they don't have any other commitments for the day.
So, you can be assured to get your work done on time and get quality work at the same time. Want some help in planning your move on a best time to reduce the home shifting charges? Here is that all you need.
3. Sort, de-clutter, sell or donate
One of the tips to reduce shifting cost is the formula of sort, de-clutter, sell or donate and this tip helps you to save up to 5K to 6K and even more as well. What is the secret behind it? It says that you can save after sorting, de-cluttering, selling and donating your stuffs which you are not going to carry or move further. How can this work? You can ask your packers and movers company that you will de-clutter your stuff on your own, doing so your moving company will reduce the cost.
Most customers skip listing their articles willing or unwilling to the house shifting company. Don't do this. If you miss some articles unwilling, inform the house shifting company in advance before the move day. If you don't, it creates a lots of problems and the price can also be increased on the move day.
House is absolutely a place where we store and take care of all our memorable and important stuff. But also, mass up a lot of junk - unused Crockery, clothes, chairs or unwanted goods. Sell it off to your friends, relatives, neighbors or put them on sale in Maxdeal or Quickr, etc. If there are clothes, shoes, chairs, tables please donate them to the people or orphan edges who are in need of help. Here is the list of NGO's where you can donate your belongings.
4. Compare and choose movers who fit in your budget
One of the other tips to reduce shifting charges is the comparison of different packers and mover's companies. Following this step, you can save up to Rs. 1000 to 2500. In order to relocate your house, you need to appoint this task in an expert hand. To do so, you will need to find one of the best packers and mover's company. Follow our blog to get tips on how to choose the best packers and movers in Delhi for your house shifting process.
There are many of the packers and mover's company that works in a different way and charge different from each other. You just need to find out that one perfect match for your move. As you follow this step you will get the benefit of a trusted, reliable and reasonable quote of a moving company.
5. Set a shifting budget to control your expenses
Our home shifting tips include one more master tip that can save your bucks. Before messing up with the whole shifting thing, you need to set a budget and don't forget to stick around it. Mark and note down every service with the dedicated charges that are going to happen in your shifting. Now, you can ask your moving company if there are any additional packers and movers charges or services that you are going to need. Doing so will give you an idea of some extra bucks hat you need to prepare.
6. Use sharing base transportation
One of the tips to reduce packers and mover's charges includes the advice of using sharing-based transportation for your luggage. This step will help you to save up to 3K to 8K or even more. We all know that "sharing is always caring" for your money like in normal life we use a sharing cab, public transport and sharing rooms to save our money similarly while shifting house we can also use sharing base transportation services. It has seen that if you book a dedicated transport medium for your luggage it will cost more as compared to the booking of shared transportation.
7. Claim your relocation bill
The next shifting tip and which is the master of all the home shifting tips, you can even get a great benefit using this tip. You can save up to 40K to 50K. It is the compensation or you can say it is an amount which your company where you work, pay to you for your house shifting. It is one kind of relocation bill which you can show to your company where you are on a job and they will see to it. Want to know more? follow our dedicated blog on how to claim relocation bill.
So here we have presented many of the points that can reduce the home shifting charges. Make your move wisely and pay attention to all the points as they are tried and tested. You can also contact us on 098994-66123 or you can fill our contact form to get a free quote for your shifting requirements.