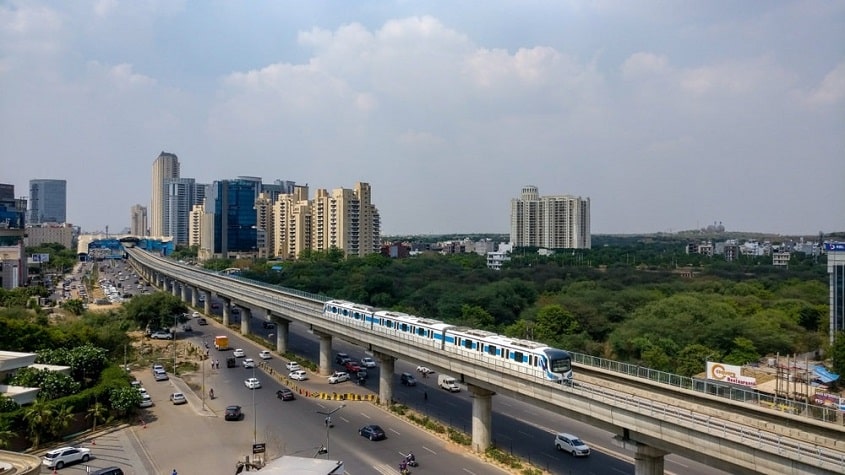 As you know Delhi comes in the second position as the productive metro in India, and the first one remains Mumbai. Recently there came a recent boom to Delhi's real estate growth in many of the sectors.
Delhi is very well-known for the hidden talent of the natives who lead to level up the economy of Delhi through manufacturing, retail, IT and travel industry as well. Not only in productive matter, but it stands still second for the wealthiest city in India after Mumbai. Delhi is the home for almost 18 billionaires in India.
Delhi is the capital of India and it has many advantages on plates. As you can see the solid infrastructure with wide opened roads which lead to the smooth flow of traffic. Well, Delhi stands on the number one position for this matter beating Mumbai and Bangalore. If you are the next thinking to shift in Delhi with family, for education, or any purpose. We are here presenting the list of 10 best places to live in Delhi.
Users Must Read: 12 Famous Tourist Places in Delhi Where You Must Want to Visit
1. Sunder Nagar
You can find this place on Mathura Road which comes at Southside of the Old Fort and also close to the Zoological Park in Delhi. Hence, this place stands to be in the first position in our list of best places to live in Delhi.
It's the best place because the area is situated in central Delhi and popular for serving as a hub spot for many of the art galleries and many of the handicraft shops as well. You can see the charm of beautiful artsy products, the market which remains in natural form and maintains class.
2. Dwarka
Dwarka is the area, you will find across South West Delhi and is an administrative headquarters. This place is known for the residential locations in Delhi, if you want to have a room or house on rent you can simply come to this spot as it comes under the category of best place to live in Delhi on rent.
Dwarka has been set unto a mix-land concept and according to this concept, the 80% of land used for residence and the remaining 20% of land goes to commercial use.
Users Must Read: 9 Moving Tips on Relocate Safely During COVID-19 Pandemic
3. Shanti Niketan
The third place in the list of best residance to live in Delhi goes to none other than Shanti Niketan. As it is upmarket for many of the city's industrialists tycoon. These places come adjacent to areas such as R.K.Puram or Vasant Vihar and these places are known for the famed schools, and many of the shopping hubs as well.
If you are thinking to buy a room or have a house on rent then there can't be any best place near Shanti Niketan. As the name suggests, it's full of peace so, you can find peace in this place which is among the best residential area to live in Delhi on rent. The idea behind this area was to be used for government officials in the city, but over the time-lapse, the property got sold to an open market area and can be afforded by the people who are a handful of money.
4. Mayur Vihar
Mayur Vihar means "the place of the peacock". While this is the residential area in Delhi and people who have low income, middle income or high income live together. However, when you are searching for the right place to live in Delhi then here is the answer, and it is Mayur Vihar. Basically, the lands have allotted to the employees who are public sector companies like BHEL.
5. Golf Links
Are you thinking to shift in Delhi with your family or even alone? Have you decided where will you start your life in Delhi? No idea! Then here's the answer. Golf Links is the right answer. When you are moving in with your family you want a society that you can rely on and Golf Links is one such area. So, it becomes the best location to live in Delhi with family. You will find this area at the heart of Lutyens Delhi. As the name suggests it is situated very close to the Golf Course. Even, these areas marked as the most expensive area in the country. It's safe because there live some police and security firms as well.
6. Vasant Vihar
Vasant Vihar is the second most popular area of South Delhi. Thus, the area comes near the IGI Airport and surrounded by many of the lavish hotels which take care of every tourist coming to Delhi. If you want to buy a house where you can live with your family peacefully then Vasant Vihar comes in the list of top areas to live in Delhi with family. These places are the house of many embassies and the favorite market which is Priya. Not only this it has the very first PVR the favorite lounge for younger ones.
7. Anand Lok
It's one of the attractive destnation of Delhi. Many of the perks want to have a tiny-mini living here because it has a unique location. However, if you are going to buy a room on rent or want a house on rent then Anand Lok is one of the safest place to live in Delhi on rent.
Anand Lok stands in the center and surrounded by many of the living areas of Delhi such as Hauz Khas, Green Park, Greater Kailash, and South Extension as well. You can come to this place following the road of Ansal Plaza Mall which is the oldest mall of Delhi. This area is guarded by DU college and the Siri Fort sports complex. When you are living in this area you don't face any difficulties with outings no matter if you are interested in shopping, eating, or even walking around.
Users Must Read: List of 10 Best Places to Live in Gurgaon - Safe Areas to Live
8. Udyog Vihar
When you are thinking to start any office the first place that comes to your mind is Udyog Vihar. As it serves as the office space in Gurgaon. This area was selected by the government of Haryana to empower small-scale industries.
Recently, this place has been announced to be the hub of IT companies. But when you are searching for the popular residetial area to Live in Delhi with family this place must be one in your list. Udyog Vihar very close to Cyber City which conducts many companies. If it's not enough then you can take examples of IT, energy, manufacturing, and automotive companies that Udyog Vihar witnesses daily.
9. Hauz Khas
Hauz Khas is one of the popular and safe places in South Delhi. As you must have known about the iconic Hauz Khas Complex, now leading for many of the startups.
IIT, India's most popular University is situated in this locality because of which many of the talents across India come to this place. As you can find many of the restaurants, hotels, malls, shops, etc which makes it available for the people look to settle in Delhi and searching for the Best Places to Live in Delhi With Family.
10. Saket
Saket is the ideal option for those coming in search of affordable residential area to live in Delhi. If you are a bachelor seeking to live your life to the fullest then you must have a house in this place named Saket. This place will serve you with all the entertainment, eating, and shopping desires as well. It's one of the largest commercial and retail areas in Delhi which is also known as The Saket District Centre.
With this, it's a wrap where we have provided you the list of best places to live in Delhi. I hope this blog will be helpful in your life, and you check them out at least once.
Users Must Read: How to Plan Your Shifting Step-by-Step
Faq's
How much of budget required to find a living in Delhi NCR for Couple?
If a couple looking to have a rental nest in Delhi then they can have it without spending too much of money. Including the foods and other utilities, you can find a well- furnished flat near about Rs. 8,000 - 20,000 but on the other hand if you want to take up a luxury flat then it will cost you up to Rs. 20,000 - 35,000.
How much of the budget required to find a living in Delhi NCR for a family?
You can find many of the cheapest places to live in Delhi NCR. However, if you include the foods, transport and other utilities then you can expect the budget to be Rs. 10,000 - 20,000 in 2bhk. If you choose to reside in a posh area then the budget may goes up to Rs. 35,000 - 60,000.
What is the average budget required for a student to live in Delhi NCR?
You can find many of the affordable PG option to reside in Delhi. The rent will be starting from Rs. 4000 - 7000.
Related Post