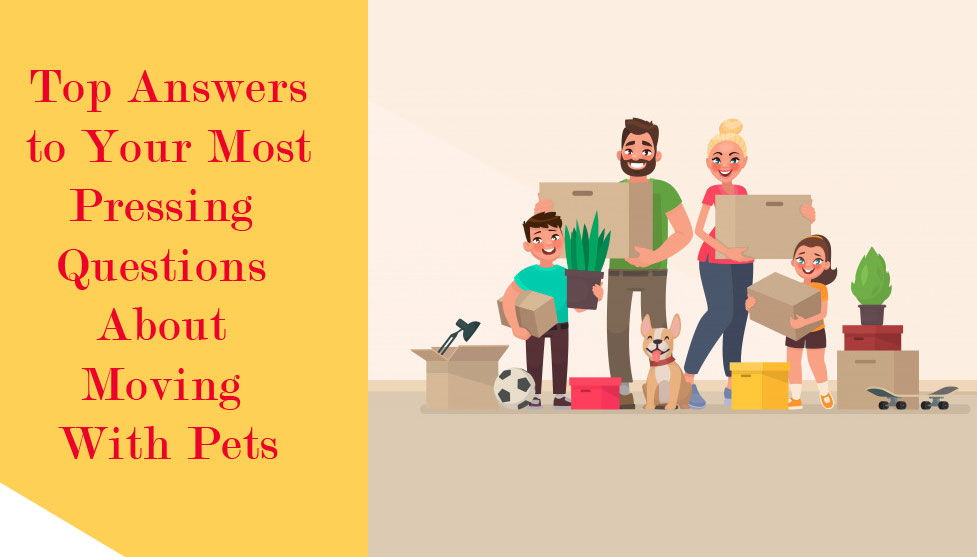 When relocating to a new home, people almost always bring their pets along. If your four-legged companions always have a place in your home, you'll want to learn as much information as possible on how to move them to your new house safely.
To begin, you can read about a few of the most pressing questions pet owners have about relocating and some answers that the best movers and packers can provide.
How do I prepare my pet for moving?
Thorough research is the key when preparing your pet for relocation. Here are three things you must do before moving day with your four-legged family member:
1. Research pet policies: If you're moving abroad, you would need to research the country's policies about foreign animals. Learn about the requirements for moving pets across territories, especially since some of them limit the types of animals or breeds allowed.
There should also be some guidelines available regarding pet vaccines or whether you need to have your furry baby microchipped (though you'll want to do this one anyway in case your pet goes missing). Some countries also implement a quarantine period for some animals.
You can visit government websites to get this information, but for more up-to-date and precise policies, consider talking to the country's consulate.
Users Must Read: Save Money, Save Time by Hiring Trusted Packers and Movers
2. Talk to the vet: Before moving your pet internationally, talk to your veterinarian for useful pieces of advice. They can provide you with information and answer any concerns you may have about your pet, particularly in terms of air travel.
Take note that some animals, particularly those that are too young, too old, get anxious quickly, or have a severe medical condition, may not be able to ride in cargo.
Your vet should be able to give travel setup recommendations and certification (if necessary). They can also help prepare your furry pal for the trip, particularly in keeping track of their required vaccinations and giving a prescription for anti-anxiety medication to help calm them during transit.
3. Get your pet comfortable in a crate If your pet is travelling via cargo, you should get him comfortable in his very own pet crate as soon as possible. This will help them feel more at ease during transit and consider it his temporary sanctuary while on the trip.
The key is to associate positive experiences with the crate during the acclimatization process. Take note that most pets won't take a liking to their travel crates right away, so you'll have to exert effort in showing them they will be safe in there.
Once you have the pet travel carrier ready, encourage the animal to explore it. Feed him meals and offer treats while he's inside. You can also gradually put in some comfort items, such as blankets and his favourite toy.
Remember: While crates may seem restrictive to humans, they can be a comforting space for your pet. You just need to put in a bit of work to help them realise that.
Bonus Tip: If you're not moving overseas or somewhere too far away, consider bringing your pet along during your visits to your new home. This way, they can get used to their new neighbourhood. Just remember to check that all fences and gates are secure before you let him loose in your new property.
What do I do with my pet during the move?
You may feel stressed and pressured on the day of your relocation. While this is normal, it can affect your pet's disposition as well. To avoid this, you should try these two ways to keep your pet calm and out of harm's way:
1. Set aside a separate space for the animal - Keeping your pet secluded during the move helps prevent your furry pal from feeling upset unnecessarily. It also keeps him away from the path of your removal crew while they carry your belongings.
To do this, you should designate one room in the new house as his sanctuary away from the moving activities. This will help him gradually adjust to the new place.
Remember to shut the windows and doors, too. Put a sign on the door for good measure so that no one – not even your removal crew – will try to enter and disturb your pet's peace.
2. Be there for your pet: Don't forget to set aside time for your pet. Giving him lots of attention and some familiar objects from your old home will help comfort him and make adjusting to the new place easier.
Of course, it would be better if you can have him stay with a trusted friend or family member during the move. This will keep him away from the chaos and ensure that he is cared for.
Users Must Read: Ever Dreamt of Getting Paid for Shifting Home
How long will it take for a pet to adjust to a new home?
The short answer is this: it varies.
For well-socialized pets, the adjustment can take between two weeks and two months. For others, it may take one year or even longer for animals to get used to the new people, routine, and environment.
Of course, you can speed up the process by setting up a comfortable space for them and ensuring that their normal routine in your old house is kept the same in the new one.
1. Be patient. If there's one thing that your pet will always need upon relocating to a new place, it's you.
When your pet is acclimatising to your new home, don't expect everything to be perfect immediately. Instead of feeling upset or reprimanding them for their disgruntled behaviour, be the benevolent companion that they need you to be.
Keep doing the things you know will help them feel happy and content. Adding a couple of extra rewards and treats will help, too.
2. Keep old routines - Like moving to a new home with children, relocating with pets would also be easier when you maintain old routines. Stick to their regular walking and feeding schedule. This will ensure that your pet can feel stability amidst the new environment and not get too confused with the change.
Ease Your Pet into Your New Home
Moving to a new home with an old pet can become less stressful with the right amount of preparation. Learn the proper way of introducing this major change to them with the help of this article.
AUTHOR BIO
Praful Gupta is the Business Head for Asset Mobility at Writer Relocations, India's premier mobility services company that handles all types of moves: International & Domestic Relocations, Office Relocations, Commercial Move Management Services, Hospitality Logistics, Fine Arts Logistics, Orientation Services, and Storage Solutions. Headquartered in Mumbai, Writer Relocations has presence in 7 countries and operates in more than 190 countries.
Related Post