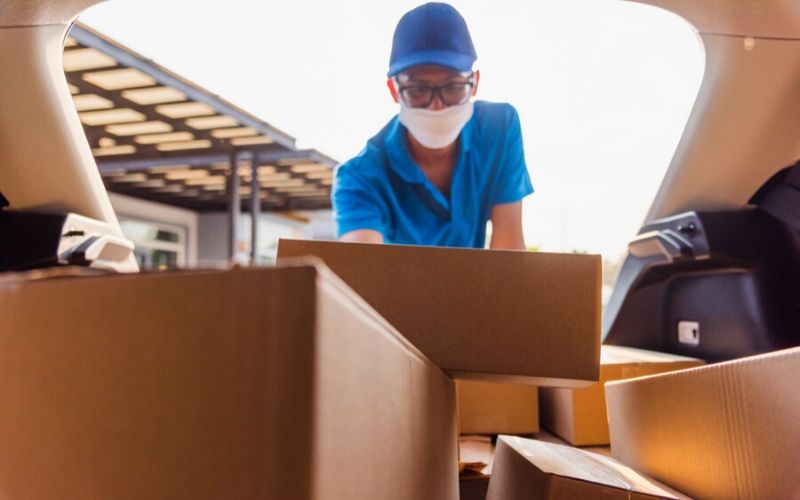 With this June came the good news for the logistics industry to get back on track. Folks who were planning to shift, they postponed this idea because of the widely spreading coronavirus. However, with the "Unlock 1.0" applied from June 1, 2020, many of the people are searching for reliable and trusted packers and movers. Though, searching is not the real problem, but the main question is how to move safely during a coronavirus pandemic?
Yeah! Now we are talking.
The world is going through a disastrous time and we can't trust anyone. Which is why we are hesitating to relocate at this time as it is not safe to go outside. Regardless, we want our moving experience to be scar-free and hassle free and complete it with a smile. To ensure full health safety, genuine packers and movers are taking their necessary steps towards sanitizers and masks.
However, there are many of the points that you need to keep in mind while shifting during COVID- 19 pandemic. These are the points that need to be kept in mind while you relocate yourself or hire any moving company. Let's get started...
1. Don't move if you or any of the family member is not well
It can lead to a big mistake!
Drop the idea of moving, if you or any of your family members are not in a good state. Proceed to check if they are exhibiting COVID-19 symptoms. By doing this you will be saving yourself and your hired movers and packers in Delhi from exposing. Don't forget that company crews are the first you should be considering for the health safety. If you are ill or was in the contact of any carrier then don't hesitate to consider some options with your landlord, bank or real-estate agent.
2. Test the standard of cleanliness
It is not possible for everyone to follow the procedures of shifting on their own. Now that you are going to hire a home moving company, make sure that they are up to your standard of cleanliness. We want to stay on a safe side at any cost which is why it is very important for you to check if your moving company has implemented cleanliness in their plan. It is considered to be a very irresponsible move for a moving company to not consider sanitization as their first priority.
Now that you are testing them based on your safety parameters then you should be the one always following the safety rules, here are those:
Make mask your friend
Even if you are shifting on your own or even hiring a dedicated moving service then it is really important for you to wear a mask all the time. Of-course, you are going to leave behind the ritual of social distancing but you can protect yourself by wearing a mask.
Wear gloves
While COVID-19 is spreading even by touching hands then it is better to be on a safe side by wearing gloves on. Even ask the people who are going to be involved in your shifting to wear gloves. One of the most important tips to follow while shifting during a coronavirus pandemic, don't touch your face even when you have your gloves on.
Be with your portable sanitizer
Whether you are on a DIY basis relocation or hired a packers and movers company, be sure to keep an alcohol based hand sanitizer in your hand. This will help you to disinfect yourself from time to time. Hand sanitizers act as a germ-killing solution reducing the risk of coronavirus to an extent.
Even if you forget to follow any other guideline, you can have another chance but don't make the mistake of leaving those points mentioned above. If you keep yourself healthy, half of the stress will be relieved there alone.
Users Must Read: Tips To Shift Your Household Goods When You Have Kids At Home
3. Use only new packing supplies
To avoid any infection, make sure to use only new and sanitized packing supplies. It creates a huge chance of infection from the disease, if you use old and used supplies. For this security, you can ask your moving partner to use only new packing materials.
4. Split your moving days
One of the tips to follow while shifting during coronavirus pandemic is that you split up your move in several days. Doing this will eliminate the need of other people who will be coming to help you with your move. Yeah it is not possible for everyone to move like this but you can discuss this matter with your movers.
5. Ask for less manpower
Even our dear PM sir has asked to do so!
It is said that you can ease up your move by getting a good amount of manpower. On the other hand, it can turn out to be a risk during this pandemic time. To ensure safety, ask your packers and movers in Dwarka to bring a lesser number of people for the move as it will be possible to follow social distancing as well. It is clear that less people will reduce the risk of infection.
6. Check the destination guidelines
For a hassle-free shifting!
In the meantime keep an eye on the guidelines of the destination state. As this time, different states are having different guidelines to beat COVID-19. So, keep up with the guidelines that you are going to move. However, when you are going to move to another city or in a different state then it is important to check out the guidelines even before you hire a moving company.
Users Must Read: Step by Step Complete Home Shifting Guide
7. Implement unpacking on your own
It's a matter of your safety and theirs as well.
The time when you reach your house, you don't want to invite infections. So, for the sake of safety from coronavirus, plan unpacking of your stuff on your own. You can ask your movers to leave the stuff at the entrance area or in the yard of your home. Yes! you can ask them to place heavy stuff such as furniture and other items inside. Make sure that this event gets done as quickly as possible.
8. Most of the stuffs should be with you
Yeah it is really irritating to keep track of everything that you come in contact most importantly when you are with kids. But there are some little points you need to keep in mind:
Don't share your pen
Don't share your phone or tablet
This is not any offending subject to reach for your own pen. As you are avoiding any kind of infection, refrain from using checks, cash or cards etc.
9. Go digital with the payment terms
It's more professional and most importantly safe!
Even our government is supporting this kind of agreement for any kind of business. By doing this you are going to avoid direct contact to other people. You can even ask your movers to go digital with the payments terms while you are signing the contract.
Make sure to follow these tips while you shift during coronavirus pandemic as these will help you to be safe and healthy. Just make sure to keep up with these tips to have a safe and smooth moving.
Related Post