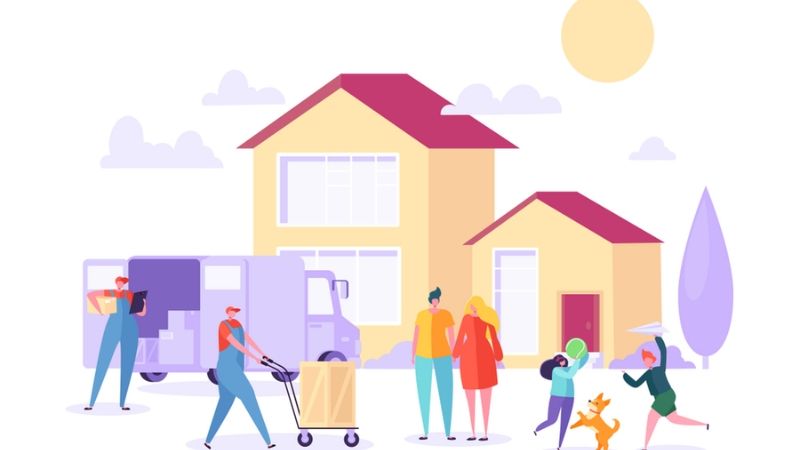 As you know that finding the right packers and movers are really easy these days, if you don't know how to identify a genuine movers and packers company and what is the right process to plan your shifting step by step you can see the blog for full details.
When you are going to move from your place, you should be aware of the state so that you can follow the right procedure. While there are two types of shifting one which is local shifting and the other one is domestic shifting.
You might know that packers and movers are the safest option to move from one place to another it can be shifting in local state or any domestic state. However packers and movers are the one who take full responsibility of your household and office goods. So it is a very important task to choose one of the genuine and reliable movers and packers in Delhi.
Let's see the procedure which suits your shifting type and you can follow all the norms very well.
Local shifting process
It is based on the destination where you want to shift. The time when you are going to shift in a local state then the service you want to get is local shifting. It advised for you to choose the local packers and movers if you are shifting in local state, as they can offer the best quality services.
It has seen that local packers and movers tends to charge reasonable and they can adjust the costing as you ask. You can choose one of the reliable packes and movers which is ready to serve you 24×7.
Now let's see the procedure followed in local shifting.
Pre-move Survey
As you hire one of the best local packers and movers for your shifting, you will get the advantage and save your house from messing up because all of the pre-move survey process will be going on telephone. If it's really needed or you have tons of luggage then they will contact you to collect all the data like shifting requirements and visit you.
The Disassemble Process
As the moving company are responsible for shifting your big furnitures safely, they will need to make them disjoint. This disjoint is necessary for the furniture security, as they can get damaged if carried as it is. Some of the stuffs which require more space to be carried will also need to be disjoint so they can carried out easily.
Packing Correctly
As you are going to move locally then the furniture and stuffs are not needed to be packed professionally because the distance is not going to move more than 15km to 30km.
So the main focus of carrying should be on fragile stuffs such as mirrors, antique pieces, glass items etc. They will use special packing items like bubble wrap, tapes and cartons etc.
Careful While Loading Stuffs
One of the trick through which you can save some bucks, don't forget to miss it check it right now. This is something you must be doing at this stage.
One of the cautious step movers have to take is at the time of loading stuffs into the moving van. They also use moving pads so that they can safely load the stuffs in the moving van.
Secured Transportation
At the moment you have paid the charges of shifting the packes and movers company will transport your luggage. Your luggage will be safely carried in the goods carrier vehicle at your destination.
Unloading All The Items
After transportation of the luggage is done, then comes the next step which is unloading. When you have hired the best packers and movers then they come to help you in unloading all the stuffs. As they are professional at it and do the task precisely. After unloading process has been done you can now move ahead to cross check the luggage list.
Unpacking With Assembling
The next step coming right next to unloading is unpacking and assembling. The best quality of professional moving comapnies is they are expert and proficient to unpack all the things. Then they run a cross check procedure through the luggage list. Now they will end up doing assembling of the things.
Domestic Relocation Process
As you are going to shift from one state to other state then you will need to get the domestic relocation facility. It is a huge creative task to pack all the stuffs and not only that but it takes a lot of time, energy, money too.
It is very risky to shift from your home to any other state which is at a great distance. Well, you can hire the best packers and movers who are expert in providing domestic relocation services. As this process needs proper planning and everything needs to be executed smoothly. Now that you are interested in domestic relocation, you must know the process followed in it so that you can move correctly.
Pre-move Survey
When you are moving under domestic relocation then the first step will be a pre-move survey. Now, what the company trnds to do is to visit to your house and take all the notes about luggage and stuffs from small to big. Then they will ask you about the requirements and will tell you the exact costing.
The Disjoint Process
The next step right after pre-move survey is disjoint process. This is the process in which the moving company do the disjoint of the large and space requiring stuffs. After doing this it will become easy to load them into the moving vehicle.
The Packing Process
While packing can break your heart to the core so leave it on your moving company. They will help you in packing the stuffs. Though they are expert in this field so they know best what to do with moving stuffs. They focus to pack all the fragile and breakables very cautiously such as crockery, mirror etc. They use packing paper, stretch wrap, adhesive tape etc to pack the items for long distance.
Loading
Your goods become safe and secure when they are loaded into the moving van professionally. This professionally perfection can only be served by movers and packers company. As they are well vesed in the field of packing and loading stuffs.
It is very important for the domestic relocation process to carry all the stuffs safely. You can be assured about the stuff security by claimig transit insurance . Here you can check the complete guide on transit insurance.
On Time Transportation
As you know that transportation of goods which are going to travel for a long distance then they need special care. Don't worry as the packers and movers Gurgaon will do this smoothly. They will pick the goods up and transfer the stuffs with their transporters. These transporters will safely land your luggage to your destination.
Unloading at Doorstep
While it is a domestic relocation, in this case the transporters will be unload the stuffs at your door steps. You can experience the professionalism in their work. As they are dien with the job, they will cross-check the luggage list and now you can easily settle down in your new home.
Now the roles of packers and movers comes to an end where they have unloaded all the luggage and handed you safely. Now you will need to tip them accordingly and enjoy your homes shifting in your new place.
Related Post